Details

Published: Wednesday, 19 June 2019 12:38
Written by Nita Teoh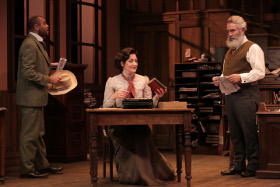 Imagine a time in the late 1890's where a newspaper in a town called Koolgalla (think of a town somewhat like Kalgoorlie) has hired a new editor "J.G. Milford".
She also happens to be a woman!
And so in The Torrents - Black Swan State Theatre Company's latest co-production with the Sydney Theatre Company, the mayhem and madness begins as the staff have to cope with the introduction of the gentler sex into their traditionally masculine workplace.
On stage, in the midst of the Heath Ledger Theatre at the State Theatre Centre of WA, the set takes on a distinctive look with stacks of old newspapers piled high in the newsroom, surrounded by its period style furniture and adornments. You can almost smell the ink from the printing press. It is another triumph from the creatives at Black Swan State Theatre Company.