Details

Published: Thursday, 06 February 2020 09:38
Written by Greg Letts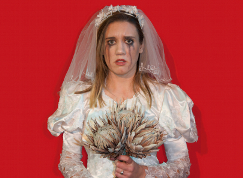 When the media release for a performance talks about brides turning into cockroaches, you know you are in for something a bit different. In the case of The Bride, that difference is an hour of insane and zany physical comedy!

Cockroaches give just about everybody the "Ewww!" response, but don't let that put you off heading into The Blue Room Theatre to watch this terrific little gem. It's held in the Kaos Room, which turns out to be aptly named!

Performer Nadia Collins contorts and distorts her body with gleeful abandon, as she portrays the tribulations of a bride who has awoken on her wedding day only to discover she is now a cockroach! But can she make it to the altar on time? She'll need the help of the audience to get there!