Details

Published: Wednesday, 24 April 2019 11:01
Written by Nita Teoh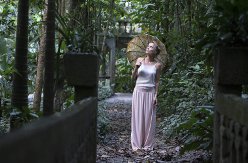 What happens when the past catches up with you?

The movie Celeste is a hauntingly beautiful story involving love and loss. It is about a once famous opera singer Celeste (Radha Mitchell) who at the peak of her international career gave up everything to be with her one true love, who then died in a tragic accident.

Reconciling the past is not an easy thing when heart break and anguish are lurking just below the surface.

Fast forward 10 years to the present, and Celeste is still struggling with the aftermath of her lover's death - battling to live day to day, yearning for the past, with things never ever to be the same again. She has by her side her loyal friend Grace who helps her to pick up the pieces of her shattered life.

The movie is set in tropical Far North Queensland – a lush paradisiacal rain forest with beautiful waterfalls. Filmed on location at Paronella Park, near Innisfail, it's a spectacular location.