Details

Published: Wednesday, 25 September 2019 16:19
Written by Nita Teoh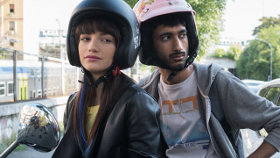 The Lavazza Italian Film Festival is off and running in Perth, with a wide range of movies to suit all tastes.
For those looking for a romantic comedy, Bangla is a fun and light hearted romp where boy meets girl from very different sides of the neighbourhood. The story of Bangla follows the budding romance between 22 year old Phaim (who is born in Italy and whose Muslim parents are from Bangladesh) and a modern Italian girl Asia (Carlotta Antonelli).
As the relationship progresses, Phaim is forced to confront the conflicts between his family and religious values (e.g. no alcohol, no sex before marriage) as he falls head over heels in love with the impulsive Asia.
A contemporary and witty look at multicultural love in current day Italy, Director Phaim Bhuiyan's debut film Bangla has made an outstanding contribution to modern cinema.
And here are Perth Walkabout's five movie picks selected from the 2019 Italian Film Festival Program Guide: