Details

Published: Saturday, 19 January 2019 09:34
Written by Nita Teoh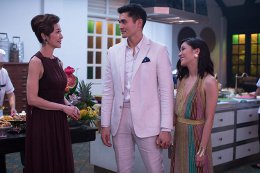 On a balmy Friday evening, we headed off to Kings Park to watch Crazy Rich Asians as part of the line-up of outdoor movies at the Moonlight Cinema.
A modern fairy tale love story (a romantic comedy) where rich boy meets working girl and all is perfect until the cultured boy takes the brash New York girl to meet his family back home in Singapore. This is the storyline of Crazy Rich Asians starring Henry Golding (as Nick Young) and Constance Wu (as Rachel Chu).
What makes this mainstream movie unique is its All Asian cast (with actors from around the globe), which has prompted more movie goers to see it due to the curiosity factor. Though different in its all Asian roster, the theme of the interplay between family dynamics, social status, and self-worth as an individual is something members of all cultures can relate to.