Details

Published: Saturday, 27 October 2018 16:37
Written by Nita Teoh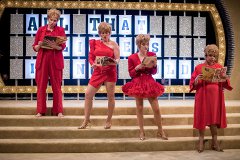 After the fun we had watching In the Next Room, or The Vibrator Play at the Heath Ledger Theatre a few days ago, we eagerly returned to the State Theatre Centre of WA – this time to watch Xenides at the Studio Underground.
As we waited for the performance to start, we were greeted with a glitzy background set straight out of the popular TV game show The Wheel of Fortune.
The play is about the life of Adriana Xenides – the game show co-host of The Wheel of Fortune. An iconic figure for many Australian families as they watched the box each night, she lays claim in the Guinness Book of Records for being the longest running TV show game hostess, with an 18 year run.