Details

Published: Wednesday, 29 May 2019 09:33
Written by Greg Letts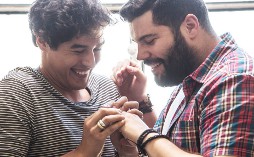 It's been 25 years since the success of Four Weddings and a Funeral, but the impact of Richard Curtis' romantic comedy masterpiece is still felt in cinemas around the world, as evidenced by movies such as My Big Gay Italian Wedding.

And while the year is now 2019 and attitudes towards sexuality have changed a lot, it is not surprising that the theme of "love conquers all" still remains a central tenet of plot lines around the world.

When Antonio (Cristiano Caccamo) proposes to his boyfriend Paolo (Salvatore Esposito) in their apartment in Berlin, Paolo asks to join him on his journey back to his hometown for Easter, so that he can meet Antonio's parents and announce their impending marriage. But Antonio hasn't actually come out to his parents yet...