Details

Published: Friday, 14 September 2018 09:17
Written by Lee-Ann Khoh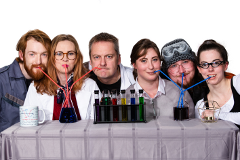 I didn't know what to expect when I headed to Nexus Theatre to check out @lantis: A Science Fiction Radio Play – more specifically, Episode 4 of a seven-part series, having not seen the previous instalments. The series was written and directed by Stephen B. Platt as part of his PhD research into science fiction and live performance. In keeping with the futuristic theme, programs were not available in print but could be accessed by scanning a QR code.
@lantis is set in the future at an underwater city and research facility (also named @lantis). In Episode 4: A Dark World, two botanists from @lantis go missing and the quirky team at Ponderlust Laboratory are sent to the surface to investigate.