Details

Published: Friday, 14 May 2021 08:29
Written by Nita Teoh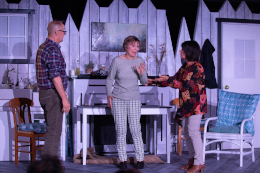 We sat within the cosy interior of the Burt Hall on the Terrace awaiting a double act by Theatre 180 - the first act up being "The Children".

My partner and I were pleased to have an evening together at the theatre – it was a bit of a treat to be out for the night after the recent covid restrictions in Perth.

The story unfolds as we meet couple Hazel (Jenny Davis) and Robin (Andrew Lewis) – who have retired and settled into life in their British seaside cottage after surviving a serious nuclear power plant meltdown.

They receive an unexpected visit from old friend and ex-colleague Rose (Vivienne Garrett), and that is when sparks fly for a myriad of reasons as her arrival disrupts their peaceful retirement.

Regrets, sacrifices, a life well lived with or without children, the pursuit of careers, love and passionate affairs – satisfying lives, moral and ethical dilemmas. The characters explore many themes in the kitchen of their simple cottage, reflecting on their behaviours (past, present and the future) and weighing up their personal gains against the greater good of humanity.