Details

Published: Thursday, 18 March 2021 17:23
Written by Greg Letts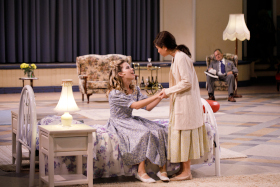 The grounds and buildings of Dalkeith's Sunset Hospital provide the perfect faded grandeur for Black Swan State Theatre Company's adaption of Anton Chekhov's The Cherry Orchard. Set amongst dilapidated old buildings that appear abandoned, as well as outdoors on land with million dollar views, it is ironic that the destruction of Ranyevskaya's cherry orchard for summer cottages would no doubt be repeated on these heritage grounds if local developers were given half a chance!

While Chekhov himself described his play as a comedy, there are no doubt plenty of tragic elements within it.