Details

Published: Friday, 21 October 2011 08:10
Written by Emily Cordz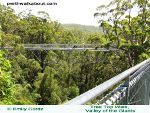 Have you ever strolled through a forest and wondered what it would be like to be one of the animals living in the canopy? How it would feel to be so high above the ground. What kind of view you would have. If you've ever found yourself wishing you could climb the nearest tree and discover the forest tree tops, then you need to head to the Valley of the Giants.
The Valley of the Giants is located southeast of Perth in the Walpole-Nornalup National Park between Denmark and Walpole. Its main attraction is the Tree Top Walk, which takes visitors up to 40 metres above the forest floor. For those afraid of heights, the Ancient Empire Walk is a good option.