Details

Published: Wednesday, 08 February 2012 10:19
Written by Melissa Luyke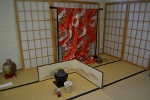 It may not seem likely from the outside, but stepping inside the ground floor of 20 Kalinda Drive, the site of the former City Beach High School, visitors are immediately whisked away to a little piece of Japan. With tatami mats, shoji screens, Japanese dolls, and sake barrels on view, it is easy to believe that the Hyogo Prefectural Government Cultural Centre office is actually located somewhere in downtown Kobe rather than coastal Perth.
Established in 1992 to celebrate the 10th Anniversary of the thriving Sister-State relationship between Hyogo Prefecture and Western Australia, the Cultural Centre is fully funded by Hyogo Prefectural Government in an aim to promote awareness of the Sister State relationship, act as a bridge of communication between Hyogo and WA, and support Japanese language and culture education in WA.