Details

Published: Wednesday, 18 January 2012 10:36
Written by Vicki Sly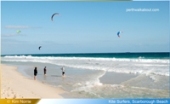 In a city built on the banks of a large river bordered by 90 km of coastline, it would be a sin not to partake in some kind of water sport.
Perth is a water baby's playground and for most of us, being in or on the water is part of our lives from a very early age. We swim and surf in it, dive under it, sail on it, jetski over it… the choices are only limited by our imaginations.
For visitors to the city, it is a matter of working out what you want to do in the time you have available. For our family, jetskiing on the Indian Ocean was top priority and far from anything they had ever tried in the cold waters of England.
Here is just a small taste of what is on offer around the city that you may wish to consider before you grab your towel and head to the beach:

1 comments