Details

Published: Wednesday, 10 August 2011 11:13
Written by Emily Cordz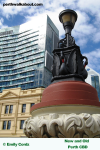 If you're planning to work in Australia either temporarily or permanently, you'll want to familiarise yourself with the Australian work culture. Some people will find it similar to previous work environments they've experienced, while others will find things very foreign. The type of work you do will influence the type of atmosphere you experience to a degree, but the general basics of the work culture will be the same.

My partner and I worked several different jobs while travelling around Australia with the majority of our work being in Perth. We both experienced a bit of harvesting work. I am a terrible sweet potato harvester, but not half bad with zucchinis.