Details

Published: Wednesday, 07 December 2011 10:45
Written by Nita Teoh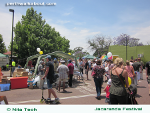 The Jacaranda Festival is held in Applecross, in November of each year. As you reach the Festival, you will be greeted by the purple coloured blossoms of the Jacaranda trees that line the streets of Applecross. The Festival is held in recognition of the annual flowering of these purple flowers and why not. It's a great excuse to have a festival!
Since its inception, the Festival has gotten bigger each year, with many different stalls on offer. I arrived there with my family just before midday and we were greeted by a hive of fun and activity as we approached the village. The twin ice cream cones welcome arch at the southern entrance add a rather fun festival feel.