Details

Category: Arts & Culture
Published: Friday, 16 June 2017 11:37
Written by Lee-Ann Khoh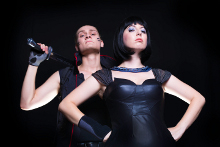 In 10,000, we are introduced to Edie and AJ through the characters they are playing in a video game. The game, which AJ bought when he and Edie first got together, acts as a metaphor for their troubled relationship.
10 years on, they are married with a three-year-old daughter, but Edie (Jessica Messenger, who also co-wrote the play with Nick Maclaine) has recently moved out.
A keen gamer, AJ (Tristan McInnes) hopes to repair their marriage by sharing one of his passions with his sceptical wife.
But before long, the lines between reality and the game's science fiction adventure world become blurred, and Edie and AJ find themselves fighting for their very survival.