Details

Published: Saturday, 23 June 2018 09:14
Written by Lee-Ann Khoh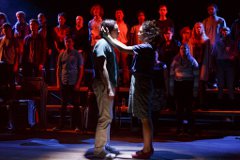 Set in the aftermath of a mass shooting that has rocked a community, The Events follows Claire (played by Catherine McClements), an Anglican priest, as she tries to come to terms with what has unfolded.

Sometime before the play begins, the multicultural choir that Claire leads was targeted by a young man with a gun. The shooter, referred to only as The Boy (Johnny Carr), is now behind bars, while Claire wrestles with her conflicting desires to forgive him and seek revenge.
Throughout the play, Carr seamlessly takes on multiple roles: The Boy; his father; his school friend and fellow outcast; the right-wing politician whose ideologies The Boy identified with; the writer whose book inspired The Boy; Claire's therapist; and Claire's partner.

In her quest to understand why The Boy did what he did, Claire finds herself confronting each of these characters.