Details

Published: Sunday, 15 September 2019 07:15
Written by Greg Letts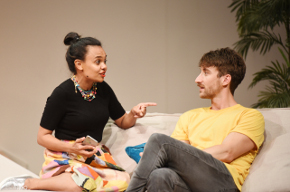 Since the days of Shakespeare's Romeo and Juliet, star crossed lovers and their conflicting families have been a staple of theatre and film.  Nakkiah Lui's Black is the New White returns to this familiar theme, taking the race conflict of Guess Who's Coming to Dinner but reversing the typical power dynamic shown between Aborigines and Caucasians to great effect.

Charlotte Gibson is a rising Aboriginal lawyer from an upper middle-class family who has just won a high profile lawsuit which has left her exhausted and questioning the values of her upbringing. She has returned to the family holiday home with her new partner Francis Smith, a white Australian who composes experimental classical music and who scrapes by on his small trust fund allowance.