Details

Published: Wednesday, 24 November 2021 15:11
Written by Greg Letts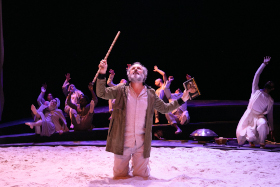 On a cool spring night with a fresh breeze blowing around the UWA grounds, the scene was set for Black Swan State Theatre Company's production of Shakespeare's The Tempest. Fortunately the Octagon Theatre proved to be wind-proof, as otherwise the audience would have ended up covered in grit, since we were greeted by the cast prowling a sandy beach and venturing into the uncharted waters of the audience in search of additional props.

As the later arrivals continued to filter in, those of us who were already seated were treated to a few sea-shanties by the cast, who all seemed to be in good humour and poised for action. And then the final stirring notes faded away and the play began in earnest.

As somebody whose exposure to Shakespeare amounts to suffering through Macbeth in high school and recognising a few of his more famous quotations, I wasn't sure how I would go with listening to an hour and forty minutes of old style English.