Details

Category: Arts & Culture
Published: Monday, 28 June 2021 09:34
Written by Greg Letts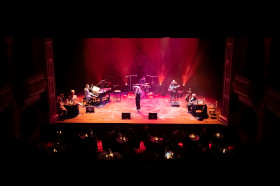 After taking in a couple of shows at the Inaugural Perth International Cabaret Festival (Carlotta's The Party's Over and Dean Misdale's Life's a Drag, both terrific), my partner and I were looking forward to sampling a smattering of the performers on offer at the Closing Night Gala.

Hastily thrown together by Artistic Director Michael Griffiths when Covid-19 struck yet again and prevented Meow Meow and Lior from coming over to Perth, the Closing Night Gala featured an extraordinary lineup of local and interstate talent, and proved to be a fitting finale to a successful first foray for the festival.

Michael Griffiths and band kicked off proceedings and got things jumping, and he was quickly joined onstage by co-host Amelia Ryan, who was later to wow (and terrify) the crowd by coming down and selecting a male audience member to assist on-stage.