Details

Published: Wednesday, 28 December 2011 08:44
Written by Emily Cordz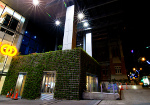 You know how some things can hide in plain sight? enex100 in the Perth CBD is one of those places. When I worked at one of the stores in enex100 the retail centre had been open over a year and we still had people regularly commenting that they had no idea it was open before they walked in. Once you discover it for shopping in the Perth city, you'll find yourself going again and again. Not only is it located in a convenient location between Hay Street Mall and St Georges Terrace, but it also offers a different shopping experience than most retail centres.