Details

Published: Wednesday, 07 September 2011 12:02
Written by Emily Cordz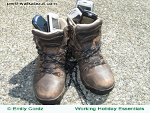 Working Holidays are a great way to extend your travels beyond the limitations of your pre-trip savings by allowing you to legally work in Australia. Many travellers find it easier in terms of finding jobs and exploring the country to have one full-time employment for up to six months.

Some prefer to do this at the beginning of their trip so they can stock up on funds and budget accordingly the rest of their time, while other would rather use it to replenish their depleted funds in the middle or end of their trip. No matter when you choose to work during your trip, you will need to take care of a few technical details in order to work.