Details

Category: Arts & Culture
Published: Friday, 02 July 2021 16:56
Written by Nita Teoh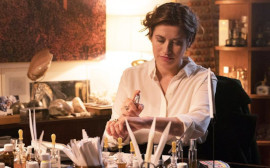 My partner and I were looking forward to our evening out at Windsor Luna in order to watch the French drama Perfumes.

Perfumes follows the story of Anne Walberg (Emmanuelle Devos) – a talented genius who specialises in using her nose to concoct amazing scents and who once had a famous career developing award winning perfumes till her sense of smell temporarily deserted her.

Now freelancing, her marketing agent sends Anne off on different assignments to continue to use the talents of her nose – though in somewhat more diverse projects which send her off the beaten track.

On one of her work projects, her path collides with Guillame Favre (Greg Montel), who is assigned to be her regular chauffeur – after she sacked her last 3 drivers.